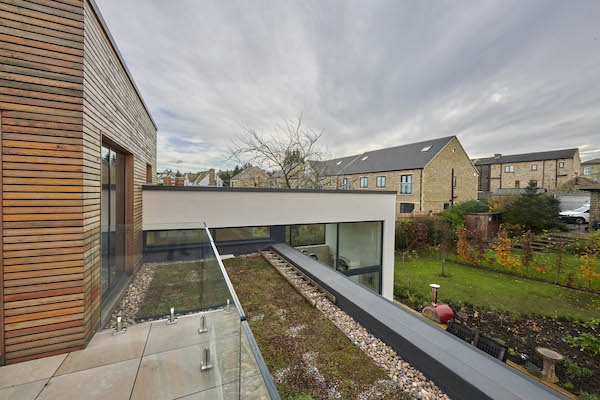 Whilst we still have a long way to go in developing more sustainable and eventually carbon-neutral homes, things are ever-changing, and there continue to be so many new innovations within the architecture and construction industries.
Here are some key points when considering a new home design:
Passive design and architectural context
Understanding the site's orientation and existing conditions continues to be a key part of sustainable home design. For example, wind directions can increase the effect of cross-ventilation for passive cooling and reduce additional energy consumption.
However, the most important element of good passive design continues to be a fabric-first approach, focusing on a high level of insulation in the floor, wall & roof and maintaining airtight construction with controlled ventilation.
Insulation and thermal efficiency
There are also continuing, steady improvements in insulation, thermal efficiency in window design as well as thermal plasters and other materials. It is key to do plenty of research and seek advice on the most suitable materials for the construction of your home.
Ways to reduce or negate thermal bridging to improve thermal efficiencies in all elements of external building fabric are also improving all the time.
Ultra-low energy Passivhaus technologies and techniques are also starting to become the norm in house building, or at least a more recognized standard to aspire to.
It is also worth noting that timber-framed buildings are still increasing in popularity and allow for much more insulation within the walls compared to entirely masonry builds.
Heating (&cooling)
This can still be the biggest challenge of creating a sustainable home and is ever-developing further, although reducing your demand for energy down to a minimum by maximizing insulation levels and controlling solar and other heat gains & ventilation by good design remain the biggest priorities.
Products such as solar thermal hot-water boilers, radiant heating, air-source heat pumps, and ground-source heat pumps are still popular and ever developing.
Recycling and repurposing
Wherever possible using recycled, or even upcycled or reclaimed, materials as part of your sustainable home is a great way to keep your environmental impact low.
There is a growing movement supporting the need to recycle, reuse and repurpose existing buildings and their materials, rather than just demolish and rebuild them. Manufacturers and suppliers are also starting to take this issue more seriously.
Natural materials and traditional techniques
Without a doubt, natural materials are still more inherently healthy and present a great offering to a home, especially those that utilize minimal embodied energy in their manufacture, production & installation.
Emerging products allow you to consider small things such as using paints that are made with eggs, milk and linseed oil, and other natural ingredients, or otherwise are water-based at the very least. There are so many different natural options now including plaster, flooring and more, which can all reduce environmental impact.
Timber remains one of the most sustainable building materials there is, as long as it is renewably sourced. In certain situations, it can also act as a heat sink and can be recycled relatively easily these days.
If you are considering creating a sustainable home and would like further advice on how to implement more environmentally friendly materials and construction methods, do get in touch with us. Our experienced team would be delighted to have a chat.