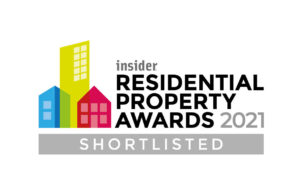 We're thrilled to announce that one of our projects has been shortlisted for the Insider North West Residential Property Awards 2021.
Our project, Williamson Gardens in Reddish, Stockport, has been shortlisted for the "Small Housing Development of the Year" category along with 6 other developments in the North West Region.
The awards ceremony, which is due to take place on the 15th July, will include a high-profile gala dinner at the Manchester Central venue. This year's event is set to be a "celebration of the strength and resilience" of the sector, despite the recent challenges of Covid-19.
Williamson Gardens is a small development of 6 high-quality affordable homes, which has been cleverly designed and built on a previously brownfield triangular site.
This modern take on the former industrial use of the site boasts communal gardens, dedicated individual cycle storage and a cantilevered canopy running at the front of each home protecting front entrances.
The homes all sold immediately just after completion, highlighting the desirability and attraction of this unique project.
Here are some images of the project:
Fingers crossed for the 15th July!