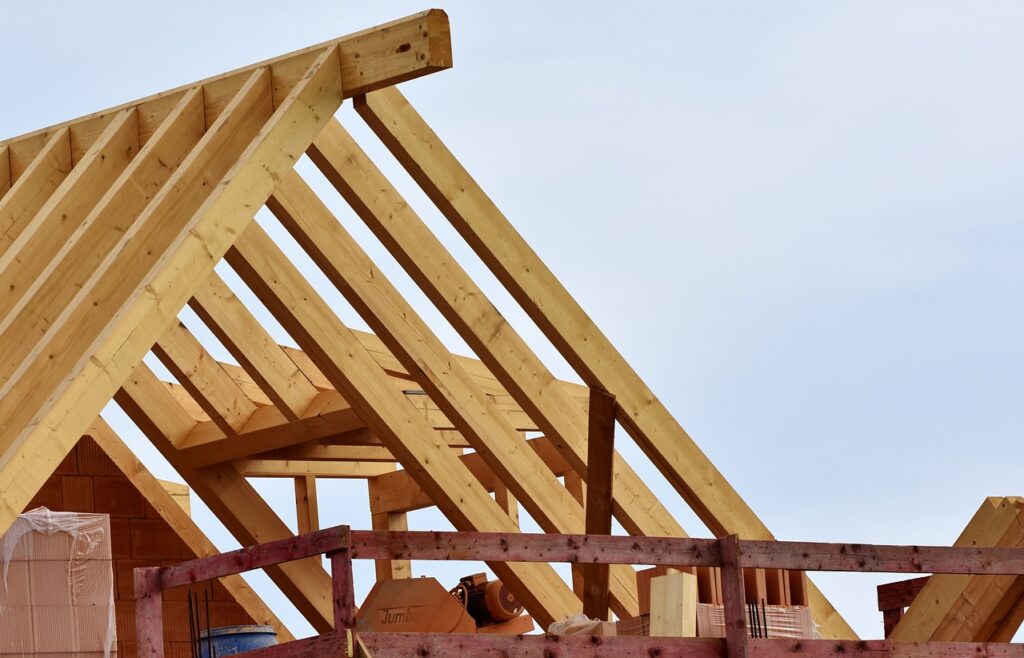 This is a very common question we're asked here at Fibre Architects. Typically, it is also a very difficult question to give an accurate answer to as there are so many different elements & variables that play a part in the design and construction of a new home, and prices also continue to increase and fluctuate on a regular basis at the moment.
Firstly, it is important to establish if building a new house is the right option for you, or whether adapting an existing one is a more appropriate solution to your needs. You'll need to consider the likelihood of planning approval, timescales, possible delays, design and construction challenges and of course, the overall budget including professional fees and contingencies.
A significant benefit of a new-build house is that you currently would still not have to pay VAT on the majority of the construction work, whereas you would with a residential refurbishment or extension project. This is currently 20% so can be a considerable additional cost.
Once you have established that a new-build is right for you, you will firstly need to find a site – or it might be that you already have one in mind, for example, the garden of an existing property. You can search for plots of land on Rightmove or on other property auction websites, or alternatively, plotfinder.net is useful for this and has advice and approximate costs too.
Bear in mind other associated factors such as legal covenants and if the site is connected to services or not. Note that the legal right to build and provide access to a new property is a completely separate matter to whether planning approval would be granted or not, and you may need to consult a solicitor about this.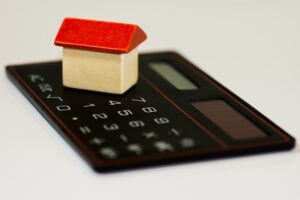 Budget
The first significant part of your construction budget will be for the foundations and structure of your build which can often account for 25-30%. It is often said that the most risk is in the ground, so this is the area where additional unforeseen costs are most likely to arise. Some prior site investigations can be carried out but nothing is certain until full excavations for foundations commence.
Generally, flat sites are more cost-efficient to develop, whereas those with slopes or significant changes in levels often incur additional costs in dealing with retaining walls or additional groundworks. Levels can of course create interest in the design though, and exploit the views from the site for instance.
Construction materials
When the pandemic and Brexit hit in 2019, the costs of materials surged and there were a number of supply-chain issues due to an increase in demand (when many turned their hands to home improvement!).
A number of factors have contributed to us seeing material costs continue to rise over the last couple of years, even construction staples such as timber and plaster. Although it is hoped that these will start to level out, it is unlikely that prices will come back down again significantly.
Rising energy prices and general cost of living increases will no doubt also have a knock-on effect to labour and other construction costs moving forward.
Construction system
There are a variety of methods to choose from when it comes to an overall construction system, some are more expensive than others, whilst alternative options can be much more time-efficient:
Concrete blocks/masonry construction – still very popular can represent around 13-15% of an overall build cost. Often on average around £35,000+ for an average house
Timber frame – is slightly more expensive and on average could be £3,500+ more than masonry if the cost was £35,000+, but construction times can be reduced and this method can provide more space for thermal insulation, reducing future energy costs.
Depending on the design, elements of structural steelwork are usually required in most builds and a hybrid of this and elements of both of the above systems often contribute to the detailed constructional design of a contemporary house.
There are many other modern methods of construction, and hybrids including environmentally sustainable methods such as PassivHaus, and these will vary in cost, typically being between 5% and 25% more expensive than traditional masonry.
Service connections
Costs to connect your plot to mains services such as water, sewers, electricity and gas can be £10,000- £15,000+. Sometimes gas may not be available, and you would need to budget an additional cost of around £5,000+ for renewables. Air source and ground source heat pumps are becoming popular and grants are available again.
Foundations
Elements such as the ground conditions, gradient, access for plant & machinery, removing spoil and your nearest ready-mix concrete plant can all also affect the overall foundation costs.
Building with brick & stone
If you build with a simple brick or artificial stone, costs can be around 5% of your budget. If you plan to use more character bricks or natural stone, costs can easily be double this.
Rendering
Sand and cement rendering is still one of the most cost-effective options and can still cost as little as £10+ per m2. Through colour and insulated render systems are more expensive but can be more durable, longer-lasting and energy-efficient.
Cladding
A wide variety of cladding materials can be used on a facade including timber, zinc, copper, or proprietary composite insulated panels for example. Clearly, costs can vary significantly depending on the extent and quality of the product used, and the substrate build-up supporting it.
Roofing
The most affordable roof is usually a flat roof utilising a single-ply membrane or similar, or a simple rectangular low-pitched roof using manufactured trusses and simple roof tiles. Lower-pitched roofs use less timber and reduce overall material amounts and therefore costs.
Roof coverings can cost anywhere between £20+ per m2 to £80+ per m2 dependent on the exact specification. Roof lights or velux windows would be an additional cost of course, which would vary on the size, type and extent.
Floor structure
Common choices of ground floor structure still include concrete slab, suspended timber and beam & block, all with an appropriate layer of floor insulation usually above or between joists. For a basic specification (softwood joists & chipboard) the costs can be as little as £20 per m2. Underfloor heating would be an additional cost of course, and insulation costs depend on the depths required.
Walls and ceilings
 Bear in mind that varying and increasing the ceiling height in rooms can create some impressive spaces but will affect costs due to an increase in materials and finishes. Generally speaking, basic costs for walls can be around £65 per m2 which includes plaster, emulsion paint and minimal tiling. The costs as you continue to do more such as wallpapering and tiling can go up to £100+ per m2.
Ceilings that just use plasterboard and are skimmed can be around £20 per m2 which includes emulsion paint.
Staircases
This is entirely down to your design preferences and often a chance to add your own style to your property. Costs can start from £1250 and go upwards from there.
Windows and doors
For a standard specification house, double glazed windows and doors can be anything between £500 to £3,000+ each, depending on size, frame and glass specification, and structural glazing systems can cost considerably more.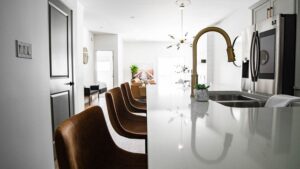 Kitchens
This is entirely dependent on the quality and style of kitchen you prefer. Prices can be anything from £5,000 up to £50,000 or even more, depending on your specific taste and preferences.
Bathrooms
Again, dependent on the amount of sanitaryware and tiling etc, the costs can vary substantially. A basic bathroom with W/C, basin, bath and additional plumbing can start from £3,500 and easily increase to £7,500+ depending on level specification. Having a separate shower cubicle in addition can add another £500 – £1,000+.
Flooring
The costs of flooring can also vary widely depending on the materials chosen but generally speaking supply costs are between £25-£85 per m2. Natural stone flags and ceramic tiles are usually the most expensive options and carpet generally being the cheapest.
Heating systems
A very basic heating system can cost around £20-25 per m2, with underfloor heating the cost can increase to around £30-40 per m2. Renewable energy heating systems are more expensive initially but should reduce energy bills moving forward, and grants should be available locally.
Electrics
For a whole-house fit-out, a basic installation can cost around £40-45 per m2. For a higher quality installation, costs can be £60+ per m2.
Other fees to consider
Topographical site survey: £500-£900+VAT
All consultants design fees (inc architects, structural/drainage engineers): 10-15% of build cost
Planning application: £462 per new dwelling
Building Regulations application/inspection fees: £500-£1200
Self-build insurance: Around 1% of build costs
External works: Around 15% of total build cost
Safety, security etc: can cost around £5,000-12,000 for a new house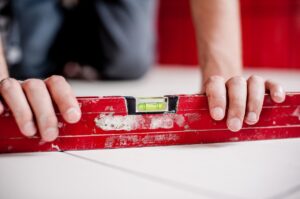 Overall build costs for initial budgeting purposes
This is always difficult to advise on due to the variables above and size of project, but we would usually suggest these days that a minimum of £1,600 – £2,200 per sq m of gross internal floor area should be allowed for initial budgeting purposes for a new-build construction project, and £850 – £1,250 per sq m for a refurbishment project, excluding design fees, external works and VAT (if chargeable). Note that for smaller projects and higher specifications these ranges can easily increase significantly.
Over and above this we always recommend having a contingency of around 10-15% (possibly more these days with increasing prices) for any unforeseen costs not accounted for such as price rises on materials, additional labour or generally any extra work that was not anticipated.
If you would like to discuss your ideas further and explore the potential of a new-build house project that you are considering, we would be more than happy to advise you. Please do get in touch with us for more information.
(Note: all costs above are indicative only and are current at time of publishing. If accurate costs are required or critical for your project we would advise the input of a qualified and relevantly experienced quantity surveyor or a reputable building contractor to prepare a detailed build cost plan at an early stage)