We are excited to announce that two of our projects have been recognised in the Huddersfield Civic Society Annual Design Awards.
The awards, which were delayed due to Covid-19, were presented on both sites earlier this week by The Huddersfield Civic Society Chair, David Wyles.
Best Residential Award:
Our structural glass extension project in Quarmby, Huddersfield, won the best residential award.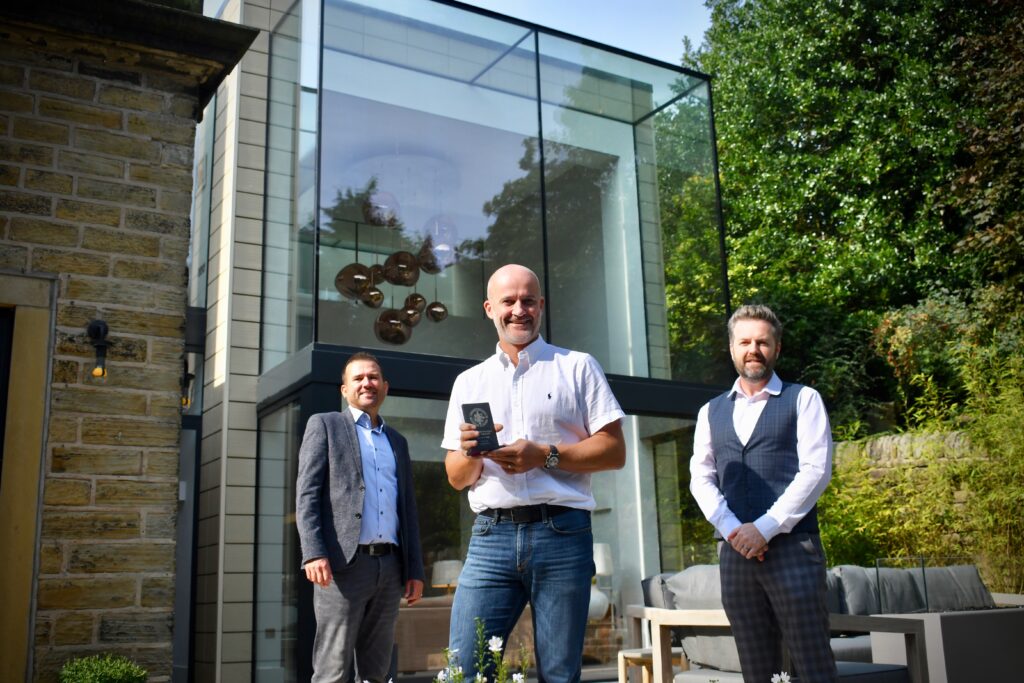 The judges commented; "This late Georgian house with its fine ashlar frontage and set in landscaped grounds, has benefitted from an extremely high quality contemporary extension to its rather undistinguished rear elevation. Melding old and new has been accomplished with great panache and a seemingly effortless flow between the two has been executed by careful detailing and high-quality fixtures. Extensive glazing provides light into a living area which itself flows into the restored garden area, resulting in a dynamic link between internal and external spaces. Both Fibre Architects and the client, with support from Historic England, have clearly worked closely to achieve this successful outcome, ensuring a historic and elegant residence provides for 21st century aspirations."
We're really proud of what has been achieved with this project and even more so that it has been recognised by the Huddersfield Civic Society.
Commendation:
The conversion and extension of a former stable block into a dental surgery at Cote Royd, Edgerton received a commendation.
The judges comments included:
"Functional, deceptively simple, yet elegant conversion and extension by Fibre Architects to former stables, within the grounds of Cote Royd in Edgerton Conservation Area."
Our MD, Martin Booker also added; "We're really pleased to be recognised by the Civic Society for our achievements in ensuring our projects are of the highest quality in both initial design and ultimate delivery of the finished project".
"To also have the accolade that one of our projects is the best residential project in Kirklees is credit to the hard work and dedication of the team at Fibre Architects."
Both projects are available to view in our portfolio.