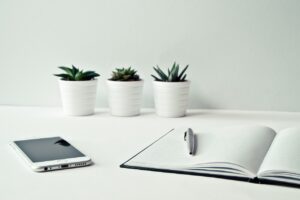 Let's face it working from home is the new norm. It's even 'trendy' to work from home now and, as some may agree – life is easier when you work from home; no commuting, more time at home and you don't even have to wear work clothes (unless you have a Zoom meeting, and then usually only the top half!).
During the 2020 lockdown the majority of the UK worked from their dining tables, sofas, kitchens and other similar makeshift working environments. Some of us may be lucky enough to have a home office. For those that don't – maybe it's something that you're thinking about implementing into your existing home?
Here at Fibre Architects, we've seen a huge increase in demand for incorporating a home office or working space as part of our design briefs for new projects over recent months.
Why do you need a home office?
The difference between being at work and home is that you have other distractions, which can limit your productivity such as TV, housework and other household chores, family and pets!
Having a dedicated working area is essential to assist with productivity and minimize the amount of distractions that you might usually find when setting up a workstation at the family dining table.
In addition, when you are working, you need resources that are readily available such as your laptop, reference materials, equipment, notebook and pens. Having a place that is dedicated for your work allows you to have the setup that you need to be able work comfortably and easily.
How to go about creating the right space for your home office:
The first question when you want to make space for your home office is: do you already have the space in your home to do so? You may need to adjust a few rooms and hey presto you have your home office.
For others, it may not be as simple but that's not a negative thing – this could be a really exciting time to embark on a new project.
Do you want an enclosed private space totally shut away, or a naturally lit generous work area with an inspiring view or even a balcony to help you through the working day?
There are so many options available including garden rooms, converting unused garages, building an extension and many more. One example includes converting a garage into a beauty room for one of our clients – the possibilities are endless.
If you are thinking of adapting your home to include a home office as part of a larger project, do give us a call.